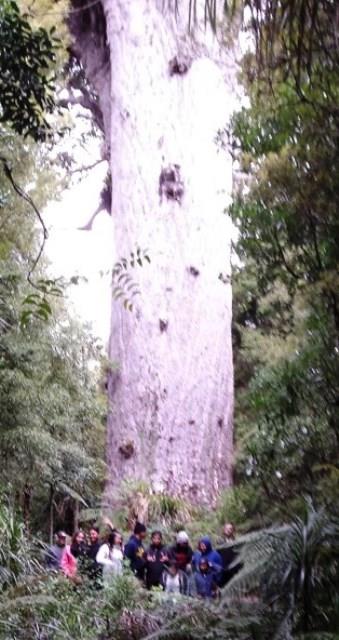 Senior Māori students had an inspirational five days in the far North, experiencing a snapshot of past and present in Aotearoa through the traditions of Māori. While the experience was culturally enriching the students were also able to gain 10 level three credits. It was a great experience, especially for some who had never ventured so far.
This is a picture of the students with Tane Mahuta in Waipoua forest. Tane Mahuta, is the largest Kāuri in New Zealand. In Māori Cosmology, Tane is the son of Ranginui the sky father and Papatuanuku the earth mother. Tane tore his parents apart, breaking their primal embrace, to bring light, space and air and allowing life to flourish. Tane is the life giver, all living creatures are his children. "Tēnā koe e te rangatira!".
Māori tradition identifies Te Rerenga Wairua as the departure point of the spirits as they begin their final trek back to the ancient homeland of Hawaiiki. The famous landmark of the Cape Rēinga lighthouse sits on a tip of Te Paki and overlooks the meeting point of the Tasman sea and the Pacific ocean. The second photo is of the students sitting between the seas and the light house at Cape Rēinga, top of New Zealand.
The students would like to thank all the staff, parents and especially Whaea Rerekohu's whānau whānuitia for making the experience possible.
He mihi e kore e mutu ki a koutou katoa.